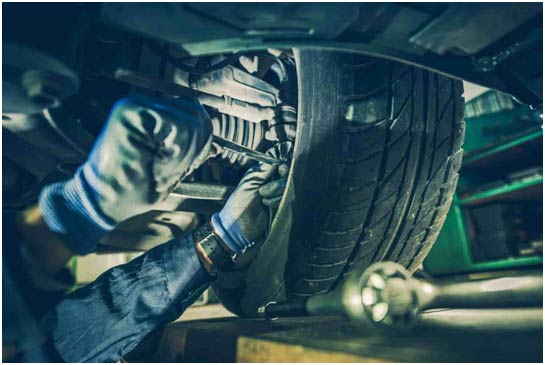 Stability, smoothness, and balance- all combine to ensure you a very comfortable ride alongside your fellow partners inside your car and it is the car's steering alongside the suspension is what comes into play which makes this thing possible. Suspension and steering are very much responsible in order to keep the wheels of your car firmly intact with the road and is surely a key player in keeping the car away from any sort of veering or let's just say that it keeps your moving car intact to one side of the road.
When It Doesn't Function?
It is pretty simple. When your car's steering and the suspension stops working properly, that is when you should realize that you are in for a bumpy ride- my friend, literally! And this is that an alarming phase when the car is giving you signals- car steering and suspension repair is required. When you get the first sign of any sort of trouble you should visit for the repair and provide your car with the service that is needed.
Symptoms
The symptoms that will notify you that it is the time to head for a repairing session is when there is noise when you drive over bumps, uneven Bounce, hard turning, uneven tire wear, or you notice that the wheels are wandering.
The very first step in order to resolve your suspension and steering problem is to diagnose your car. The auto service professionals will go on to inspect your major systems in the car that includes-
Front End
Shocks
Rear End
Coil Springs
Bushings
Struts
CV Joints and Axles
Wheel Bearings
Chassis Parts
Power Steering
Differential
Power Steering Fluid
Car Alignment
Alignment is referred to as the adjustment of a car's suspension wherein the system connects the vehicle to the wheels. It is simply not an adjustment of the wheels or tires themselves as many would think. The key aspect of proper alignment is the adjustment of the tire's angles that affects the contact made with the ground.
How Would You Know If The Alignment Is Required To Your Car?
There are quite a ways on the arising of which you can get your car's alignment checked by the licensed technician immediately.
bumpy tread wear
Vehicle getting pulled to right or left
The steering is off-centre when you drive straight
Vibration in the steering wheel
Once you make a visit to some professional service technician he will resolve all this problem on doing a thorough check of your vehicle from inside out. He will ensure your safe ride after he is done repairing your car. These are those stuff that should be given a check on a regular basis let's say after every 2 to 3 months so that your car stays in shape and no harm is done to you and your car.
Keeping this stuff in mind car alignment is suggested on every service, so you have a smooth and safe drive with your loved ones.